"New York City's foremost choral conductor"
~Time Out New York
Kent Tritle is one of America's leading choral conductors. Called "the brightest star in New York's choral music world" by The New York Times, he is Director of Cathedral Music and Organist at the Cathedral of St. John the Divine in New York City; Music Director of Musica Sacra, the longest continuously performing professional chorus in New York; and Music Director of the Oratorio Society of New York, the acclaimed 200-voice volunteer chorus.
In addition, Kent is Director of Choral Activities and Chair of the Organ Department at the Manhattan School of Music and is a member of the graduate faculty of The Juilliard School. Also an acclaimed organ virtuoso, Kent Tritle is the organist of the New York Philharmonic and the American Symphony Orchestra.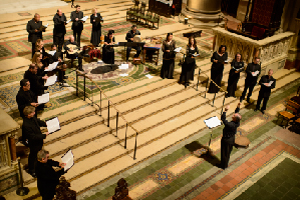 Kent's 2017-18 season is highlighted by the world premieres of two works with the Oratorio Society of New York: Sanctuary Road, an oratorio about the Underground Railroad by Paul Moravec, libretto by Mark Campbell, commissioned by the OSNY, and Behzad Ranjbaran's We Are One. Concerts with the Cathedral Choir of St. John the Divine include a program celebrating the immigrant history of New York in collaboration with early/world music group Rose of the Compass that includes the world premiere of a commissioned work by Robert Sirota, and a program of Kodály, Stravinsky, and Pärt's Miserere. He leads programs of repertoire ranging from Gregorian chant to Morton Lauridsen with Musica Sacra, and programs including Carissimi's Jephte with ensembles and soloists from the Manhattan School of Music. He also guest-conducts Mozart's Requiem with the Cathedral Choral Society at Washington National Cathedral.
The season's organ activities include a recital at the Stiftskirche in Kyllburg, Germany, recitals on two of the great organs of New York City – those at the Cathedral of St. John the Divine and the Church of St. Ignatius Loyola – and three performances as soloist in the Saint-Saëns "Organ Symphony" with the New York Philharmonic led by Antonio Pappano.
Among Kent's recent notable performances: at the Cathedral of St. John the Divine, Verdi's Requiem, Mahler's "Symphony of a Thousand," and Britten's War Requiem performed by the Oratorio Society of New York and the Symphony and Symphonic Chorus of the Manhattan School of Music, the New York premiere of Einojuhani Rautaavara's Vigilia that Opera News called "a choral concert for the ages," and programs of early music with the Cathedral Choir in the Chapel of St. James; with Musica Sacra, world premieres of music by Juraj Filas, Michael Gilbertson, and Robert Paterson and an acclaimed performance of Rachmaninoff's All-Night Vigil; and with the Oratorio Society of New York, the world premiere of Juraj Filas's Song of Solomon, and performances of Paul Moravec's Blizzard Voices and Songs of Love and War, Filas's Requiem "Oratio Spei," and Mozart's arrangement of Handel's Messiah.
Kent has created high-profile collaborations for his groups with other major players in the New York music scene, directing the Manhattan School of Music Symphonic Chorus for performances of Beethoven's Symphony No. 9 with the New York Philharmonic led by Alan Gilbert; Musica Sacra for the New York Philharmonic's presentation of 2001: A Space Odyssey film screening and live score performance, also led by Gilbert; and the Oratorio Society of New York for Beethoven's Missa Solemnis with the Orchestra of St. Luke's led by Sir Roger Norrington, and Carnegie Hall's 125th Anniversary Gala. In 2013, Kent was the chorus director of the Carnegie Hall National High School Choral Festival, preparing three choruses from high schools across the country in Mozart's Requiem. He also led the "Mass Appeal Mass" of the "Make Music New York" festival for three years, including the 2012 premiere of a work by Philip Glass in Times Square.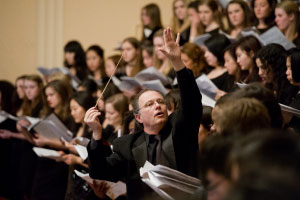 As part of his work as Director of Choral Activities at the Manhattan School of Music, Kent Tritle established the school's first doctoral program in choral conducting. Tritle is also renowned as a master clinician, giving workshops on conducting and repertoire; in 2017 he made his fourth appearance as a featured conductor at Berkshire Choral International, leading Mahler's "Symphony of a Thousand," and led his third summer workshop at the Amherst Early Music Festival. Recent years have included workshops at Summer@Eastman and at the Sibelius Academy in Helsinki. A Juilliard School faculty member since 1996, he currently directs a graduate practicum on oratorio in collaboration with the school's Vocal Arts Department.
In more than 150 concerts presented by the Sacred Music in a Sacred Space series from 1989 to 2011, Kent Tritle conducted the Choir and Orchestra of St. Ignatius Loyola in a broad repertoire of sacred works, from Renaissance masses and oratorio masterworks to premieres by notable living composers, earning praise for building the choir and the concert series into one of the highlights of the New York concert scene. From 1996 to 2004, Tritle was Music Director of the Emmy-nominated Dessoff Choirs. Kent hosted "The Choral Mix with Kent Tritle," a weekly program devoted to the vibrant world of choral music, on New York's WQXR from 2010 to 2014.
Kent Tritle has worked with a wealth of young singers over the years, and several with whom he was worked frequently are on the leading edge of the current group of rising stars in opera and concert: sopranos Susanna Phillips, Emalie Savoy, and Jennifer Zetlan; mezzo-soprano Sasha Cooke; and tenor Paul Appleby. Tritle has prepared choruses for conductors Alan Gilbert, Philippe Entremont, Christoph von Dohnányi, Leonard Slatkin, Michael Tilson Thomas, Robert Spano, Gerard Schwarz, Vladimir Spivakov, Nicholas McGegan, Leon Botstein, and Dennis Russell Davies. Among the soloists with whom he has collaborated are singers Renée Fleming, Jessye Norman, Hei-Kyung Hong, Marilyn Horne, Susanne Mentzer, Susan Graham, and Sherrill Milnes; cellist Yo-Yo Ma; and pianist André Previn.
As an organ recitalist, Kent Tritle performs regularly in Europe and across the United States; recital venues have included the Leipzig Gewandhaus, the Zurich Tonhalle, the Church of St. Sulpice in Paris, Dresden's Hofkirche, King's College at Cambridge, Westminster Abbey, and St. Vitus Cathedral in Prague. With the Philharmonic he has performed Saint-Saëns's Organ Symphony conducted by Lorin Maazel and Andrew Davis, and recorded Brahms's Ein Deutsches Requiem, Britten's War Requiem and Henze's Symphony No. 9, all conducted by Kurt Masur, as well as the Grammy-nominated Sweeney Todd conducted by Andrew Litton. He is featured on the DVDs The Organistas and Creating the Stradivarius of Organs. In 2015 he became Chair of the Organ Department of the Manhattan School of Music.
Kent Tritle has made more than 20 recordings on the Telarc, AMDG, Epiphany, Gothic, VAI, MSR Classics, and Pro Organo labels. Among his most recent are Music from a Higher Sphere, an arrangement of Mahler's Symphony No. 8 for chorus, soloists, and organ by organist David Briggs, performed by Briggs, the Oratorio Society of New York, and choruses and orchestra of the Manhattan School of Music; two with Musica Sacra: Eternal Reflections: Choral Music of Robert Paterson, a 2015 release about which Gramophone magazine said, "As shaped by Music Director Kent Tritle, the myriad hues, lyricism and nobility in Paterson's music emerge in all their splendour. The choristers of Musica Sacra lift their lines from the page, bringing passionate and lucid life to the varied challenges"; and Messages to Myself, an acclaimed recording of five new works (by Daniel Brewbaker, Michael Gilbertson, Zachary Patten, Behzad Ranjbaran, and Christopher Theofanidis). In 2013 he led a recording of Juraj Filas' Requiem, Oratio Spei, dedicated to the victims of 9/11 with the Prague Symphony Orchestra, vocal soloists Ana María Martínez, Matthew Plenk, and Filip Bandzak, and the Kühn Choir.
Kent Tritle holds graduate and undergraduate degrees from The Juilliard School in organ performance and choral conducting. He has been featured on ABC World News Tonight, National Public Radio, and Minnesota Public Radio, as well as in The New York Times and The Wall Street Journal.
9/2017
Kent Tritle on Facebook:  www.facebook.com/kenttritle
Kent Tritle on Twitter:  www.twitter.com/kenttritle